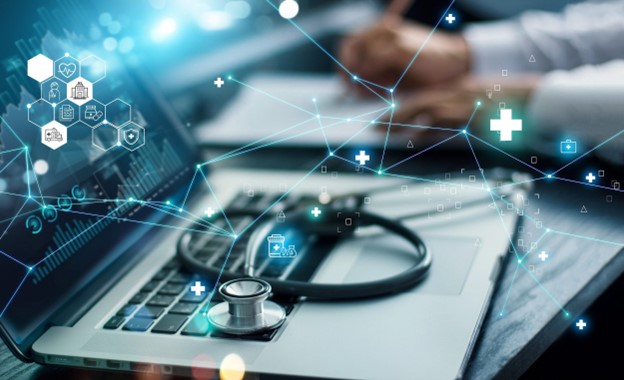 What is the Internet of Medical Things (IoMT)
The Internet of Medical Things (IoMT) is of extreme relevance when it comes to the life sciences industry. The emergence of several medical devices that create, collect, analyze, and transfer data is fueled by technological investment. In fact, the global IoMT market exhibits a positive growth from $30.7 billion in 2021 to $187.6 billion in 2028, according to a research by Fortune Business Insights.
IoMT has revolutionized the way patients are treated, which also helps them live longer and better. Healthcare providers and patients are gaining access to cutting-edge technologies thanks to medical devices and sensors. Truly, the health industry is undergoing innovation via digital transformation.
How do MedTech companies get the IoMT right from a commercial standpoint and leverage the potential to bring more value to healthcare devices?
Definition of IoMT
The Internet of Medical Things (IoMT) is a subset of the Internet of Things (IoT) technologies, which refers to the process of connecting physical devices via software.
What differentiates the IoMT is that it specifically comprises medical devices and technologies for the healthcare industry. Anything from wearable sensors to connected inhalers, platforms to other tools.
To ensure the highest level of prevention, the IoMT regularly monitors patients in the hospitals. Thus, the embedded sensors and devices connect patients, physicians, and the medical infrastructure by sending human health information or real-time activity reports over a protected network.
The applications in the field of medical consultation have transformed as a result of the IoMT technology development. Now, sensors measure vital signs, insulin devices monitor glucose in diabetes patients, and connected tags are placed on medical supplies so there is live and available data about the stock quantities. The IoMT has countless applications in the life sciences sector.
Benefits of IoMT
As major advances are driving innovation in the MedTech industry, here are the principal benefits of implementing this technology to your business model:
Real-Time Data
IoMT gives healthcare workers access to real-time data from linked medical devices, allowing them to make decisions that are actionable, quick and accurate. By providing accurate and live data about patient profiles, healthcare facilities are able to tailor a personalized care pathway, prescribe the right treatments and avoid medical errors.
Improved Treatments
By enabling constant patient remote monitoring, health workers are ensuring better care and enhancing the results of therapy. This improves procedures and workflows, supporting physicians in their treatment options and allowing early diagnosis.
Through heuristics and AI, intelligent medical devices permit constant monitoring both at home and in hospitals, facilitating performance and patient experience.
Cost Reduction
By reducing unnecessary medical visits, hospital stays, and readmissions, the IoMT lowers patient expenses. Consequently, it helps reduce costs for providers and insurance companies as well.
In a paper released by Goldman Sachs, analysts project the IoMT reduced healthcare spending in the US by more than $300 billion annually. Besides, the introduction of the IoMT has bolstered a leaner, more interconnected care paradigm, which is one of the main factors in its staying in power.
Security and Privacy
As more and more medical equipment goes online, it's crucial to take advantage of the expanding opportunities to improve security.
Although past processes were making an effort to protect patient information, there are always holes. The digital and automated data allows for a cybersecurity defensive strategy. Moreover, the Food and Drug Administration (FDA) handles the regulation for these medical devices, which also works assiduously to lower cybersecurity threats. Along with hospitals, healthcare organizations, security researchers, and other governmental organizations, the FDA is accountable for this.
Types of the IoMT
In-home
With in-home IoMT, patients send medical information from their residences to a hospital or their primary care physician.
Patients are able to fix small concerns by communicating with their doctors. Remotely using telehealth, which uses communication technology for remote healthcare services. Moreover, medical devices send data from a freshly released patient's hospital, allowing their doctor to evaluate parameters like blood pressure or oxygen saturation.
On-body
On-body IoMT involves wearable medical devices that can connect to remote monitoring and tracking systems.
On-body IoMT, as opposed to in-home IoMT, can be utilized as people go about their regular activities outside of the home. Consumer and medical on-body IoMT devices are the two main divisions:
Consumer on-body IoMT devices: Anyone is able to buy it, plus it follows common health measures. Potentially spots early warning indications for health concerns. As data functions really well for personal use, it is possible to also share it with healthcare providers if necessary.
Clinical on-body IoMT devices: These devices provide a far wider range of sensor alternatives. For instance, diabetic patients are advised to wear glucose monitors to get notifications when their blood glucose levels change.
In-hospital
Unsurprisingly, hospitals are one of the sites where IoMT devices are used most frequently and effectively. They boost productivity, enhance results, and offer data that otherwise is fatal.
Typical applications of in-hospital IoMT devices include essential medical equipment and personnel tracking, IoT-enabled hygiene surveillance tools, shrewd inventory management, refrigerator and freezer supervision.
Up until now, the general approach to healthcare has been provided in a reactive manner. IoMT assists in constructing a customized, proactive, preventive, and predictive treatment plan when paired with AI and machine learning. In order to give the medical network the maximum degree of intelligence, automation, security, and privacy, IoMT is key. It certainly is revolutionizing the healthcare industry.
Want to learn more about implementing IoMT? Contact us today and we can help.

About Centurion Consulting Group
Centurion Consulting Group, LLC, a Woman-Owned Small Business headquartered in Herndon, VA conveniently located near Washington D.C., is a national IT Services consulting firm servicing the public and private sector. Delivering relevant solutions for our client's complex business and technology challenges. Our leadership team has over 40 years of combined experience. Including almost 10 years of a direct business partnership, in the IT staffing, federal contracting, and professional services industries. Centurion's leaders have the demonstrated experience over the past three decades. Partnering with over 10,000 consultants and hundreds of clients from Fortune 100 to Inc. 5000 firms –in multiple industries including banking, education, federal, financial, healthcare, hospitality, insurance, non-profit, state and local, technology, and telecommunications. www.centurioncg.com.