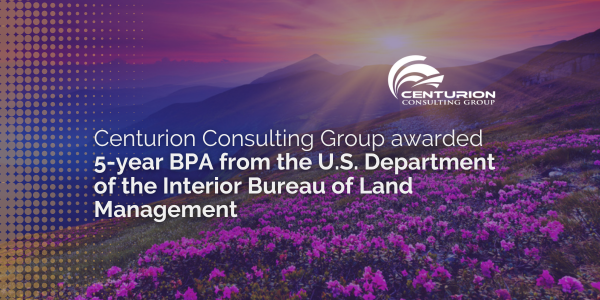 Centurion Consulting Group awarded 5-year BPA from the U.S. Department of the Interior Bureau of Land Management
WASHINGTON D.C., – March 28, 2023
– Centurion Consulting Group, LLC (Centurion), a Woman Owned Small Business federal Prime Contractor for IT Services and HR and Human Capital support services, has been awarded a Blanket Purchase Agreement (BPA) under a multiple-award for HR Support Services from the Department of Interior, Bureau of Land Management (DOI-BLM).
Centurion will serve DOI-BLM through competitive BPA orders to deliver HR Support Services pertaining to general Human Resource services and Recruitment and Staffing services for achievement of timely and effective hiring as well as supporting the government with recruiting and hiring talented, diverse candidates for federal positions. The period of performance for the BPA will be for a period of five (5) years from the effective date of award, with performance periods for individual BPA Orders established at the BPA Order level.
"We are excited to support the Bureau of Land Management's mission of sustaining the health, diversity, and productivity of public lands for our fellow U.S. Citizen's use for today and future generations, through delivering and supporting the needed and growing workforce required to successfully deliver on the Bureau's goals,†said Theresa Zandi, Principal Owner of Centurion Consulting Group. "We look forward to a long and successful partnership with DOI-BLM by delivering on our experience in Human Resource Management, Recruitment, Placement Services, and traditional Staffing.â€
For more information on how Centurion Consulting Group can assist you, contact us today at www.centurioncg.com/contact-us/.
About Centurion Consulting Group
Centurion Consulting Group, LLC, a Woman-Owned Small Business headquartered in Herndon, VA conveniently located near Washington D.C., is a national IT Services consulting firm servicing the public and private sector by delivering relevant solutions for our client's complex business and technology challenges. www.centurioncg.com
###
Media Contact
Larry Hemley
S.J.Hemley Marketing
larry@sjhemley.com
www.sjhemleymarketing.com
781.570.6083